Welcome
Pacific Educators is one of California's oldest and largest providers of employee benefits to education/school personnel and their families. Our focus is to provide the highest quality Life Insurance, Disability Insurance, and Cancer Insurance available to California Teachers, California School Employees (Classified) and California Administrators/Management.  All of our products are from reputable, top-rated insurance companies.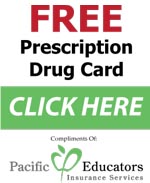 For over 48 years, we have made available a variety of insurance coverages designed especially for California School District Personnel, their friends, and families. We also work closely with many Colleges and Educational Groups. In most cases payroll deduction is available.
Deciding on an insurance carrier can be complicated and sometimes confusing. You want someone who will provide insight, service, and respect. You want a company that will always be there when you need them.
Since 1971, Pacific Educators' staff has developed the skill and knowledge to pr